Launch your brand to new heights with our 10 Step Guide To Boost Your Branding
Every brand can use a lift.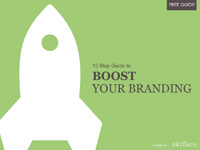 Whether you work for a young startup or a well-established corporation, branding is one of the most critical pieces of your marketing strategy. This free 14-page ebook will put you on the path to success, helping you turn your brand into a powerful business tool.
You'll learn how to:
Define your brand
Conduct a brand audit
Set your branding strategy
Share your brand with the world