Meet the ARTÉMIA team!
Check out our video for a little visit with the team here at ARTÉMIA Communications.
Who we are - the smiling faces of some of our team membersIn this video you can see:
Where we work - beautiful and always photogenic San Francisco
What we do for you - because otherwise we wouldn't be here!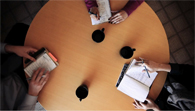 We sure think it looks good!